Sahla Box
presentation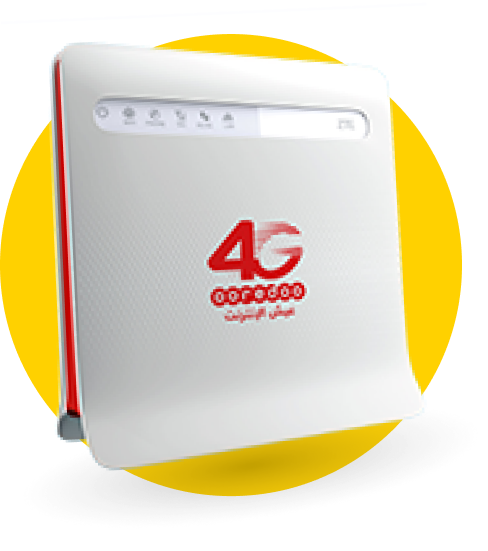 1000 DA
for appels with Ooredoo








La Sahla box est une nouvelle expérience à vivre en famille! Elle vous offre une connexion internet à haut débit, des appels en illimité de chez vous, et vous donne accès à plein de services inédits.
La Sahla box vous offre aussi :
Des Boosts internet qui donnent jusqu'à 10Go supplémentaires sur vos forfaits Sahla box.
Une application mobile pour partager votre forfait avec votre famille et en profiter où que vous soyez
Obtenez votre Sahla box maintenant ! et bénéficiez d'un bonus offert allant de 50Go d'internet et 1000 DA d'appels vers Ooredoo valables 30 jours, tout cela à partir de 8990 DA seulement !


AVANTAGES

Immediate acquisition and easy installation
More simplicity with Sahla box, acquisition without waiting time and immediate activation as well as an ultra simple installation

Unlimited calls to ooredoo
Benefit from unlimited calls to Ooredoo from 2000 DA

Share your plan with your loved ones
Make your family benefit from the Sahla box package on their mobile lines with Sahla box APP .
DÉCOUVREZ NOS FORFAITS SAHLA BOX
10
HANYA
Valid for 24 Hours

Ooredoo to ooredoo
30
HANYA
Valid 24 hours from the time of purchase.

Unlimited o2O calls & Sms
1000
AMBITION
Valid for 30 Days

20 Mins International Calls
1000
AMBITION
Valid for 30 days

20 Mins International Calls
* Les Boosts sont disponibles en cas d'achat de forfait Sahla box de 2000 DA et plus.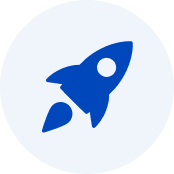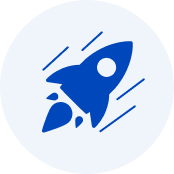 Boost 200*

Super Boost 500*
BOOST 200
4GB
(Follows the validity of your Sahla Box package)
at 200DA
Super Boost 500
10Go
(Suit la validité de votre forfait Sahla Box)
à 500DA
* Boosts are available when purchasing a Sahla box package of 2000 DA and more.
Facile avec Sahla box APP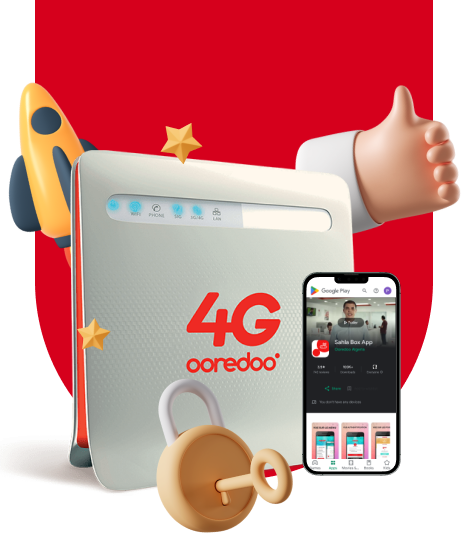 Sécurité

Avec la Sahla Box App, vous pouvez gérer votre Sahla Box en toute sécurité. L'authentification en 3 étapes pour vous permettre de vous enregistrer et gérer votre box en toute tranquilité.

Facilité

Avec un design simple et fluide, accédez à votre Box, transférez de la data, surveillez vos consommations et achetez vos forfaits en toute tranquilité. Vous avez également accès à pleins de services ludiques et pratiques

Rapidité

Avec la Sahla Box App, transférer de la data n'a jamais été aussi rapide, en deux clics vous pouvez gérer vos consommations et activer vos services préférés.
NOUVEAU ! PARTAGEZ VOTRE FORFAIT SAHLA BOX
Ooredoo met à votre disposition une application mobile pour vous permettre de partager le forait de la Sahla box avec votre famille. La Sahla App vous propose à vous et à vos proches de profiter du forfait de la Sahla box ou que vous soyez et en toute simplicité
Comment ça marche ?
Téléchargez l'application Sahla box depuis « Play Store »
Insérez votre numéro mobile et créez votre mot de passe
Découvrez maintenant le plaisir du partage avec toute la famille
Modalités du partage de forfait :
Jusqu'à 5 numéros favoris
Jusqu'à 30Go d'internet
Appels en illimité vers vos numéros favoris choisis*
Avantage disponible uniquement sur les forfaits Sahla box 2000, Sahla box 3500 et Sahla box 5000.
* Avantage disponible uniquement sur les forfaits Sahla box 2000, Sahla box 3500 et Sahla box 5000.
MY OOREDOO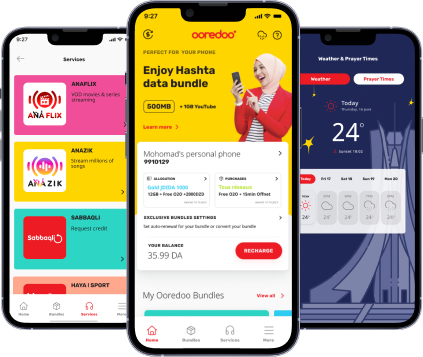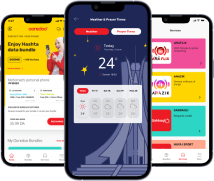 With The My Ooredoo Application,
Manage Your Line With Just One
Click And With Ease.