Chat Ooredoo
PRESENTATION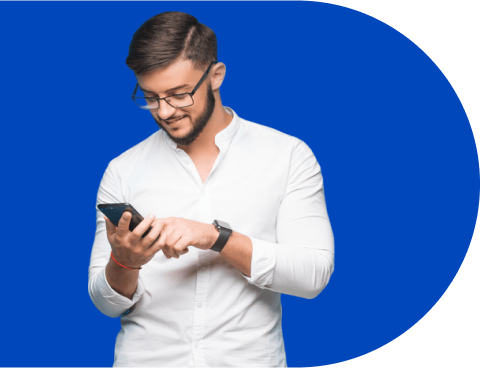 Envoyez par SMS le mot « CHAT » au 5050, puis suivez les instructions reçues par SMS. Le prix du SMS est de 3 DA (TTC).
Exemples d'utilisation du Ooredoo CHAT (SMS): en envoyant les commandes ci-dessous par SMS au 5050, vous pourrez:
Savoir qui est en ligne sur le CHAT : « Online »
Trouver des amis proches de vous : « Wizz » suivi du nom de la wilaya. Exemple wizz Alger
Se connecter au salon de discussion : « Salon »
Vous pouvez consulter la liste des mots-clés et de leurs fonctionnalités en envoyant le mot « AIDE » au 5050
Nouveauté ! Ooredoo CHAT est disponible à présent en langue arabe. Venez sans plus attendre découvrir une multitude de salons de CHAT à travers lesquels vous pourrez discuter et partager vos passions avec plein d'utilisateurs dans une ambiance conviviale et toujours dans la bonne humeur.
AUTRES SERVICES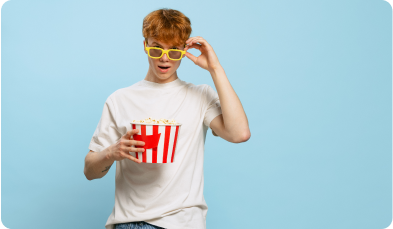 ESTROM
The 1st online payment service in Algeria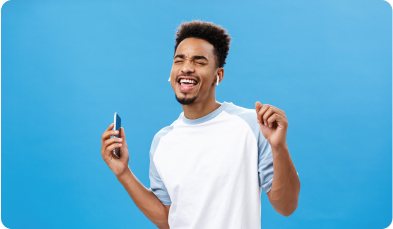 CURRENCY CONVERTER
Easily convert popular currencies at up-to-date rates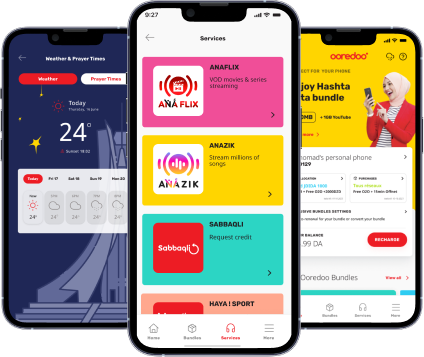 DIMA
To stay reachable at all times
MY OOREDOO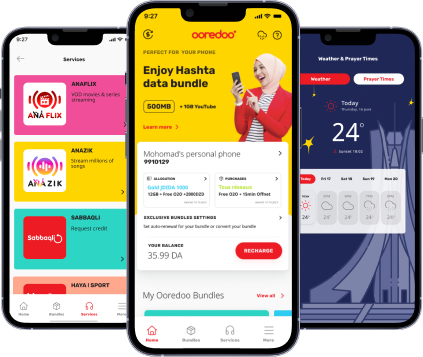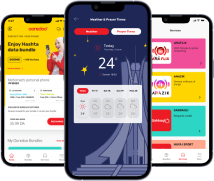 With The My Ooredoo Application,
Manage Your Line With Just One
Click And With Ease.