Roaming
TARIFS PAR PAYS
Veuillez sélectionner un pays pour voir nos tarifs
COMMENT ÇA MARCHE ?
Dès votre arrivée au pays visité, vous êtes automatiquement connecté au réseau étranger.
Vous pouvez également sélectionner manuellement le réseau de votre choix parmi la liste des réseaux qui s'afficheront sur votre téléphone mobile :
Entrez dans le menu de votre mobile,
Allez à « Paramètres du téléphone »,
Puis « Réseaux »,
Et enfin « Sélection manuelle »,
Vous n'avez plus qu'à vous laisser guider pour choisir parmi les réseaux disponibles.
Pour effectuer des appels à partir du pays où vous vous trouvez, composez (00) suivi de l'indicatif du pays de votre correspondant puis son numéro de téléphone.
Exemples :
Pour un appel vers l'Algérie 00 213 XX XX XX XX
Pour un appel vers la France 00 33 X XX XX XX XX
Le service INTERNET en Roaming est à 34DA/20 Ko
Tarif exprimé en TTC.
Tarification par Minute indivisible dès la 1ère seconde
MY OOREDOO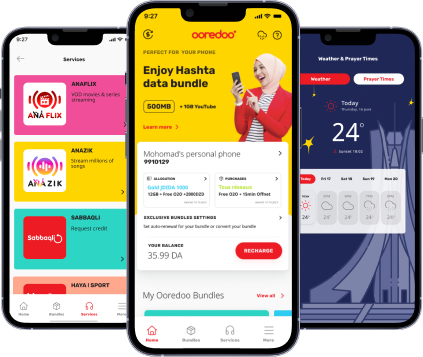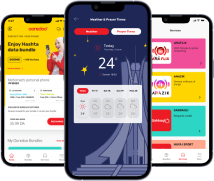 With The My Ooredoo Application,
Manage Your Line With Just One
Click And With Ease.